Michelle L. Arenson, Associate
Phone: 319-731-0014
Email address: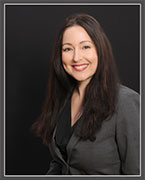 I am thrilled and feel fortunate to be working with my father, Jim Arenson. I have many fond memories of our family's "dealership years" and observing my father's work. One of my earliest memories includes my parents' message that was something along the lines of, 'when you grow up, you can be anything you want to be' and 'you can overcome any obstacle'.
Throughout my life I have watched my parents work as a team, struggle through adversity, start and successfully operate an automobile dealership, survive my father's "law school years," and begin and continue his second successful career as a lawyer. I learned from my parents that it is best to meet obstacles head on, to be flexible and adaptable in order to meet life's challenges.
I use that same attitude while serving my clients—we tackle issues head on with practicality, creativity, adaptability and drive. I have diverse work experience including early years in private practice, serving as in-house counsel in the regulated utility industry, and running a major corporate business division responsible for major wind energy installations in the Midwest. I apply this diverse legal and business experience to assist my clients in facing their business challenges and opportunities in the way that works best for them.
My husband and I reside in Cedar Rapids and our son, Michael attends college. I have served on various working committees for the American Wind Energy Association. I have also served as a member of the Iowa Climate Change Advisory Council, the Iowa Wind Energy Association, and currently serve as president of the Cedar Rapids Opera Theatre.
Areas of Practice
Admitted to Practice
Education
Drake University Law School, 1993
Lake Forest College, B.A. English 1990
Professional Memberships
Linn County Bar Association
Iowa State Bar Association
National Association of Dealer Counsel
American Wind Energy Association