Justin D. Riem, Associate
Phone: (319) 363-8199
Email address:jriem@arensonlaw.com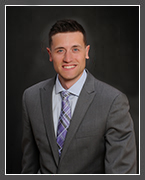 Unlike many of my law school peers, I didn't always know I wanted to be a lawyer. While attending high school in Minnesota, I was a bit of an entrepreneur, starting and running my own car detailing and lawn care businesses. When I went back to my home state of Wisconsin to start my undergraduate studies at UW-Madison, I followed in my brother's footsteps and initially sought an engineering degree. After a year and a half of studying, however, I realized my true passions lied with the elective courses I took in psychology and social sciences; the classes that challenged me to see the world through different lenses and think creatively to find solutions to difficult problems. I immediately changed my major, pursued a career in the law, and never looked back.
I represent my clients ethically, analytically, and empathetically. I understand when meeting a prospective client, it is often during the worst moments of his or her life, and I don't take that lightly. Trials are rarely the desired answer, but in some cases, they are the only appropriate solution. That is why I focused my attention both during and after law school on litigation, client counseling, and negotiation, to ensure I had the tools necessary to best help my clients achieve their goals. When I moved to Iowa with my wife and our children in 2016, I joined a local general practice firm and continued to cultivate my skills in civil litigation and negotiation, representing clients in a variety of matters, from contempt proceedings to breaches of corporate fiduciary duty claims.
My extensive experience in a wide array of legal areas, together with my practical, real-world knowledge and creative approach, gives my clients the trust that their matters are skillfully handled by a dedicated attorney who not only understands their legal needs, but has their best interests in mind. I know what it means to work hard for the most important things in your life. I feel quite privileged to use my passion for and knowledge of the law to help local Iowans navigate the confusing, emotionally charged, and often-adversarial legal system to get the justice they want and deserve.
Areas of Practice
Family Law

Adoption
Appeals
Dissolution of Marriage
Separation
Alimony
Child support
Custody and parenting time
Visitation
Contempt in child custody cases
Mediation and arbitration
Property division
Paternity
Pre-nuptial agreement
Grandparents' rights
Spousal abuse
Restraining and protective orders
Guardianship
Termination of parental rights

Divorce

Child Support
Child Custody
Modifications to Child Custody Agreements
Visitation
Premarital Agreements
Contempt in Child Custody Cases
Show Cause Cases
Grandparent Visitation
Paternity
Domestic Abuse
Admitted to Practice
Iowa, 2017
Minnesota, 2013
Education
University of St. Thomas School of Law, Juris Doctorate, 2013
University of Wisconsin-Madison, Bachelors of Science in Psychology, 2009
Professional Memberships
Iowa State Bar Association
Linn County Bar Association
Minnesota State Bar Association
Articles
Testimonial
My experience with Justin Riem helped to restore my faith in the legal system. Justin was able to recoup a large deposit I have given a contractor as well as the associated fees. He was determined and stayed with it, all the while keeping me informed as to where things stood. I would certainly recommend Justin's services to anyone seeking legal advice and will definitely contact him in the future should the need arise.